Sutra Vape Silo Pro Vaporizer for 510 Carts
Introducing a masterpiece from the renowned brand, Sutra Vape. Dive into a world of unparalleled vaping experience with this vaporizer that stands out in its class. Unlike many in the market, this vaporizer boasts the capacity to hold an impressive 2 grams of oil materials, ensuring longer sessions without the need for frequent refills.
Key Features
Extended Capacity: Unique in its ability to accommodate up to 2 grams of oil materials.
Quick Activation: Simply inhale 5x from the mouthpiece to power it on. Activate its preheat function with just two inhales.
Customizable Voltage Settings: Tailor your vaping experience by changing the voltage settings with three easy inhales.
Fast Charging: Equipped with a Type-C port, ensuring your device is ready to use in no time.
Reliability and Safety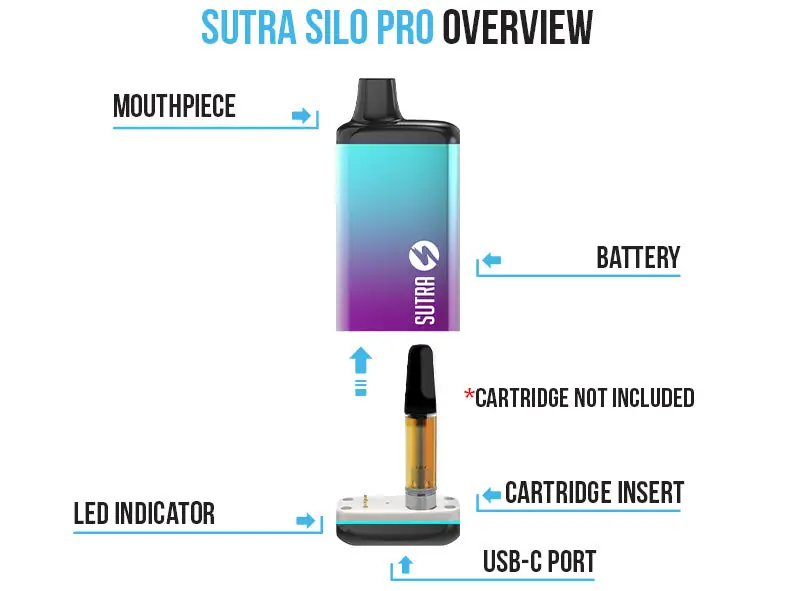 With its origin dating back to 2011, Sutra Vape has been a pioneer in crafting modern vaporizers with top-tier craftsmanship. Specializing in dry herbs, wax concentrates, and oils, the brand emphasizes safety. Users are advised not to charge in cars, avoid overcharging, and use only the designated charging cable to prevent battery damage and ensure the longevity of the internal system.