Overview
The Tronian Milatron is a portable dry herb vaporizer with plenty of incredible features. It has a hybrid convection/conduction heating system that produces rich vapor.
Tronian has known for its budget 510 batteries and this is its entrance into the dry herb category. The Milatron has a max temperature of 464°F and 25 seconds of heat-up time.
This device has a 2300mAh battery, including a USB-C cable for fast charging.
In The Box

Tronian Milatron Vaporizer
2x Mouthpiece Screens
USB-C Charging Cab
Packing Tool
Cleaning Brush
Design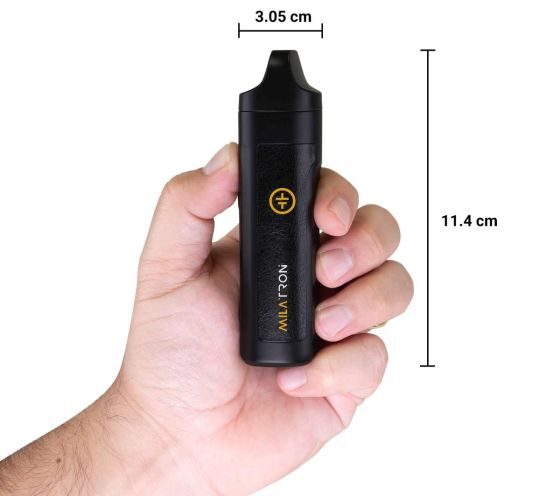 The Milatron is 4.5 inches tall and is shaped like a rounded rectangle. The mouthpiece is on the top of the device and twists off to reveal the chamber.
Funnel-shaped oven: The top of the oven is shaped like a funnel, making it easy to load and empty after a session.
Leathered design: This budget beast's body is brushed aluminum with vegan leather on the sides for a comfortable grip.
Features

Anodized aluminum oven: The Milatron's chamber is made of anodized aluminum and features a dual heating mechanism to heat the bottom and sides of your bowl evenly.
Hybrid Convection Heating System: The Milatron uses a hybrid convection heating system to cook the herbs. The Milatron has a 0.22-gram bowl size.
Haptic feedback: It features haptic feedback that lets you know your chamber has gotten up to set the temperature. Its mouthpiece was made from a temperature-safe plastic and used a ceramic filter to avoid negatively impacting the vapor's flavor.
Usage capacity: A 2300 mAh battery powers the Milatron and should last you for about an hour of continuous use or one day of typical usage sessions.
How to use
Twist the mouthpiece
Place your dry herb inside the chamber
Press the power button
Set the temperature using the smaller buttons
The device will vibrate once it's ready
inhale vapor