Overview
The Lux is an inexpensive pen-style 510 battery, from the very dynamic manufacturer Yocan. It features a zinc alloy body, an integrated 400mAh battery, variable voltage, and a 10-second pre-heating function. While it definitely keeps to the design and feel of the usual 510 batteries, it does have an interesting voltage dial positioned right at the top of the body. You can opt to go through its 1.8v to 4.2v range simply by twisting the dial.
Features
Variable Voltage: The Lux's temperatures can be controlled simply by twisting the tactile dial at the top of the device. It has a 5 pre-sets that travel between the ranges of 1.8v to 4.2v.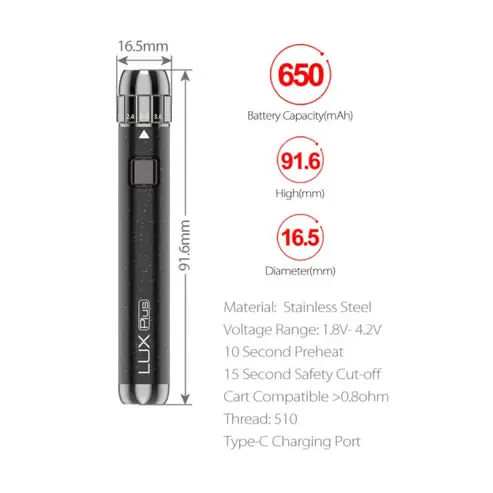 Portable Design: At only 16.5mm in diameter and 76.5mm in height, the Lux is definitely a device you can take anywhere and everywhere.
650mAh Battery: The 650mAh battery charges via Micro-USB and depending on which voltages you're on – should last you the entire day.
Pre-heat function: Pressing the button twice pre-heats the Lux at 1.8 for 10 seconds. This feature is pretty useful and highly recommended if you're using a cartridge with silica or ceramic wick.