Overview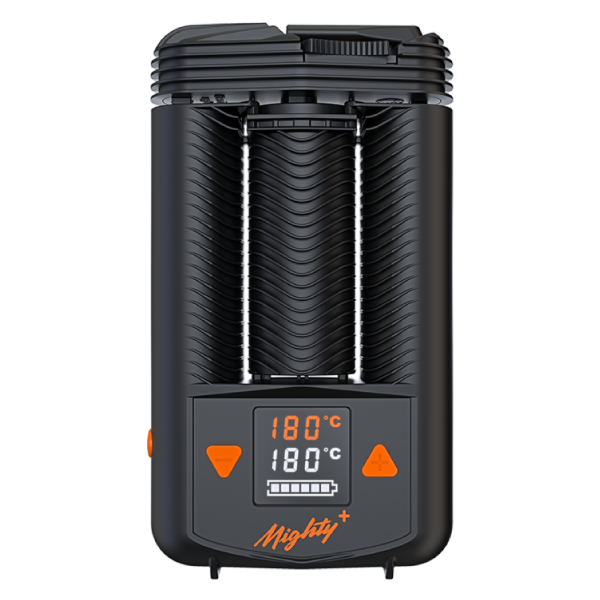 The Mighty has been one of the most highly rated dry herb vaporizers since its release in 2014. In September 2021, manufacturer Storz and Bickel finally gave it a well-awaited update and released the new Mighty+. S&B's Volcano Hybrid and Mighty are both TUV certified for medical use, while the Mighty+ (Plus) is both TUV and UL certified- guaranteeing the safety of the battery, charging, electrical, and heating components. It still operates on S&B's patented hybrid heating system and retains the same general look and feel of the classic Mighty, but with new functional cosmetic and performance updates.
Design
Finned design: The fins that line the exterior of the device are angled and optimized for grip and feel. It also serves as a gap between your hand and the warmer sections of the device.
Medical-grade plastic shell: The outer shell of the Mighty+ (Plus) is made with the same material that's used to house medical devices and is resistant to chemicals and heat.
Well-sized LED display: The display and the display layout make it easy to see everything that's happening with the device – actual temperature up top, set temp below, and the battery level at the bottom.
Swiveling mouthpiece: The Mighty's mouthpiece tucks/swivels away when not in use and sits right above the device's cooling unit.
Feet to keep the device upright: The Mighty+ (Plus) now has feet that keep the device upright and makes loading the top-mounted bowl much easier
Features
Hybrid Heating System: Hybrid Heating makes use of both conduction and convection – heat is generated both inside and outside the oven to maximize the extraction. The Mighty+ (Plus) has an oven capacity of 0.25 grams and the oven is lined with ceramic.
Faster heat-up time: The overall mass of the heating chamber has been significantly reduced to make it more efficient. This improvement has resulted in a fast heat-up time of 60 seconds.
Super booster: This is a new pre-set temperature exclusive to the Mighty+ (Plus). Triple clicking the power button now raises the current temperature by 60F, allowing users to extract the most out of their herb.
USB-C Charging: The Mighty is powered by a lithium-ion battery that lasts 90 minutes and charges via USB-C. It also has a new supercharge feature that can deliver an 80% charge in 40 minutes. This new USB-C port is also accompanied by a resigned circuit board to accommodate the new 45W power output
How to Use
Detach the mouthpiece.
Place the dry herb inside the filling chamber.
Press the power button.
Use the up and down arrow keys to set the temperature.
The device will vibrate once it is ready.
Inhale vapor.