Storz & Bickel Venty
Embark on an unparalleled experience with the Storz & Bickel Venty Dry herb vaporizer.
With cutting-edge technology and superior build quality, the Venty redefines the standards of vaping excellence.
Ultra-Fast Heat-Up for Instant Gratification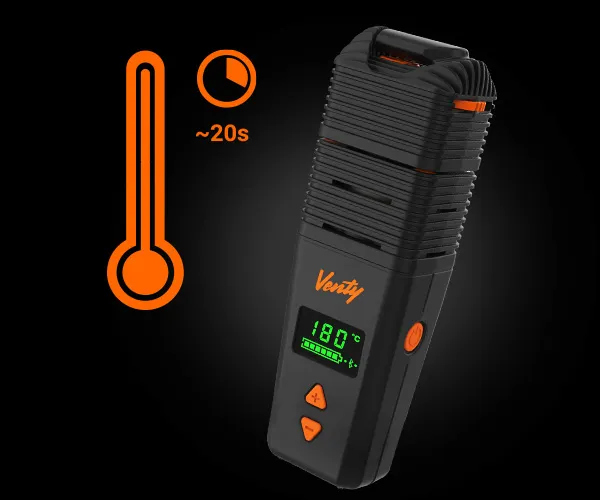 Imagine the convenience of having your vaporizer ready to use almost the moment you decide to unwind. That's the kind of instant gratification you can expect the Venty vaporizer, thanks to its ultra-fast heat-up time.
Standing as one of the most impressive features of this device, it's engineered to reach your desired temperature in a mere 20 seconds — a significant standout compared to conventional vaporizers.
Quality Construction for Premium Feel
Constructed with top-quality materials, the Venty Vape is not just about performance but also elegance and durability.
The sleek design meets robust construction, providing a premium feel and ensuring that the device withstands the rigors of regular use.
This rapid readiness isn't just about speed; it's about the seamless blend of convenience, efficiency, and respect for your time.


It means no more anticipation or constantly checking your device to see if it's ready. Whether you're seeking quick relaxation after a long day, a swift session between your daily tasks, or simply prefer not to disrupt your flow, The Venty vaporizer respects your time and responds to your cues almost instantly.
Unparalleled Airflow for a Smooth Experience
Experience a draw like no other with its remarkable airflow capacity of 20 liters per minute at maximum setting. This ensures a smooth, satisfying vapor production that stands out in its category.
Customizable Temperature for Personal Preference
Flexibility is key with the Venty, offering a wide temperature range that's adjustable right on the device. Tailor your vaping sessions to your personal preference with ease, whether you enjoy a cooler vapor or a denser production.
Smart Features for Modern Convenience
The SB Venty takes convenience to a new level with its Bluetooth connectivity and Web App control, allowing for seamless adjustments and monitoring. The Integrated Boost & Superboost Temperature settings are designed for those who desire an extra kick in their sessions.
Reliable Power and Warranty for Peace of Mind
In a world where dependability is paramount, the Venty vaporizer emerges as a beacon of reliability.
Engineered with two high-power Lithium-Ion Batteries, it is designed to cater to your sessions that last longer and adventures that take you further. The endurance of its power supply means you can delve into uninterrupted experiences, without the hassle of frequent recharging. This steadfast power reflects not just convenience, but the freedom to explore your vaping journey deeply and without restraint.
Comprehensive Kit for Immediate Use
Every detail has been meticulously considered with the Venty comprehensive kit, designed to elevate your experience from the very first use. It includes an Easy Valve Balloon with an adapter, streamlining the setup process; a high-grade USB-C cable for fast and efficient charging; a filling chamber clip to simplify preparation; an air filter set to ensure purity with every use; and a detailed instruction manual, providing clear guidance for both newcomers and seasoned enthusiasts. This all-encompassing kit is not just about providing the essentials; it's about delivering an all-in-one solution, ensuring you have everything you need for a seamless and enjoyable experience right from the start, without the need for additional purchases or accessories.