Overview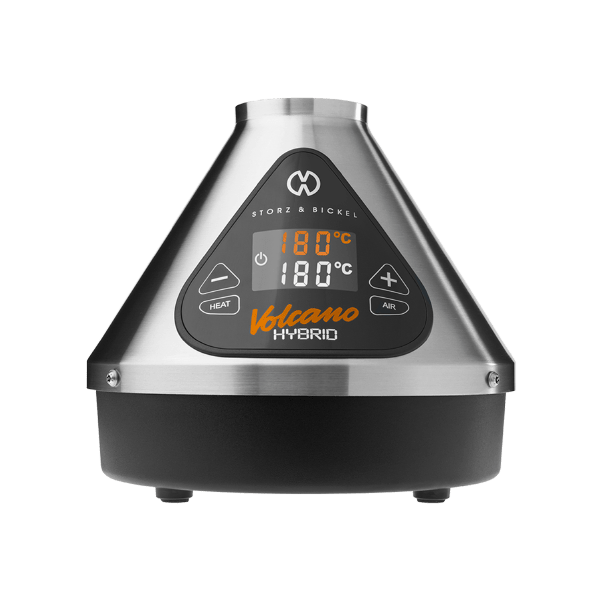 Volcano Hybrid Vaporizer is the brand new Volcano model coming to market. It's been a while since Storz and Bickel released a desktop vaporizer but their vapes are still one of the leading sellers in the industry.
Volcano Hybrid Vaporizer, as our research says, have few notable added features that consumers would appreciate. It now features a new design where its control panels are in the body's large display and are controllable via a touch button. Like most modern portable dry herb vaporizers, it now has an app control via S&B app which you can download using your Android or iOS smartphones. It has a faster heating process of 1-2 minutes compared to its brothers (3-6 minutes) and vapor inhalation through the tube kit or valve balloon. All these in the same high-quality craftsmanship that Storz and Bickel takes pride in.
Hybrid Heating System
Volcano Hybrid Vaporizer exhausts the features of both convection and conduction heating. It is therefore expected to produce hits with denser clouds but with flavorful vapor.
Bluetooth App Connectivity
Volcano Hybrid Vaporizer has Bluetooth technology integration. It is not just for quick adjustments, the smartphone app will let you modify the temperature between balloons.
Removable Power Cable
Previous Volcano models are hard to move around a room because they need to be connected to a power source all the time. This new feature will make it convenient to move the Hybrid around the room.
Release Date
The Volcano Hybrid Vaporizer has been officially launched on Friday, June 28th in Europe. We expect it to be available in the US and Canada by mid-2019. Stay tuned!